First, list twelve characters from any fandom, then answer the questions below.
1. Curdie, from the Princess and the Goblin He's the shorter miner.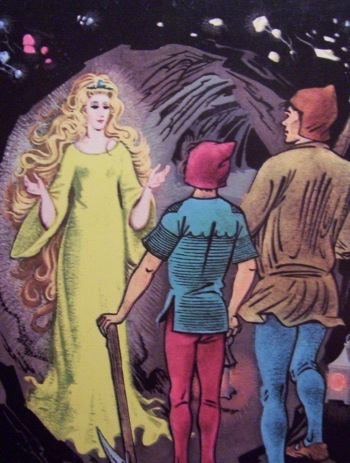 2. Bertie Wooster, from Jeeves and Wooster
3. Elsie Dimsnore from Elsie Dinsmore. (Prepare yourselves for some Elsie-bashing, people.)
4. Henry Huggins, from Beverly Clearly's work.
5. Johnny Tremain
6. D'Artagnan, from the Three Musketeers
7. Faramir. Because I had to have someone from Lord of the Rings
8. Alice, from Alice in Wonderland
9. Mrs. Piggle-Wiggle
10. Sunny Baudelaire Series of Unfortunate Events
11. Fay, from That Thing You Do. She's the wardrobe management. Oh yeah. Actually, her job is to hold sunglasses for Guy. (She's Liv Tyler in the middle)
12. Ludovic Lavenham ~The Talisman Ring. He's a exicitable smuggler who likes to shoot people. Tragically, I could not find a picture for him, but he's awesome.
1. Who would make a better collage prof, 6 or 11? D'Artagnan is rather lacking in the brains department, so probably Fay. She could teach music I guess.
2. Do you think #2 is hot? Okayyyyyy. Not my preferred adjective. Bertie Wooster? He thinks mustaches are goodlooking. Need I say more?
3. 12 sends 8 out on a mission. What is it? Does it succeed? Ludovic sends Alice on a mission. Hmmm. I think he would tell Alice to marry Beau Lavenham so that she could inspect his jewelry collection for a talisman ring. Yeah. Actually, that's scarily realistic.
4. What is or what would be 9's favorite book? Mrs. PiggleWiggle's favorite book would probably be 1001 Recipies for Delicious Cookies. That woman is a gem.
. Would it make more since for 2 to swear fealty to 6, or the other way around? Bertie Wooster would swear fealty to any scary-dude with a sword, and then promptly forget about it. D'Artagnan would swear fealty to any pretty girl who chanced his way. As Bertie is not a pretty woman and as D'Artagnan is a scary-looking dude with a sword, I think Bertie would swear fealty. And Jeeves would get him out of it, of course.
.6. For some reason, 5 is looking for a roommate. Should (s)he room with 9 or 10? Johnny Tremain should stay with Mrs. Piggle Wiggle so she can cure him of all his vices. Everyone should stay with Mrs. PW.
.7. 2, 7 and 12 are going out to dinner. Where do they go and what do they discuss? Bertie Wooster, Ludovic Lavenham, and Faramir. Wow. First of all, Bertie only came because his Aunt Agatha made him. He takes everybody to the "Mottled Oyster" a cheap nightclub. Although he tries to tell the party about the prize he won for scripture knowledge in grammar school, Faramir and Ludovic start fighting. (Of course.) Faramir is convinced that a flaming arrow can do as much damage as a pistol. Ludovic disagrees. They start firing projectiles at the candlebra in an attempt to prove their marksmanship.
8. 3 challenges 10 to a duel, who wins?
Sunny easily wins. In the first place, Elsie is such a coward that the only person she can challenge is a baby. But right before Sunny immobilzes Elsie with her razor-teeth, Elsie calls for her daddy. Coward.
9. If 1 stole 8's most precious possession, how would (s)he get it back? Curdie would never, ever, ever steal. It goes against everything in him.
10. Suggest a story title in which 7 and 12 both attain what they desire. Hmmm. Faramir's desire is Eowyn. Ludovic's desire is a golden ring. How to fit that in a title?
11. What kind of plot device would you have to use if you wanted 1 and 4 to work together? I'd tell Curdie that Henry Huggins was surronded by goblins who were mussing his hair. Then Curdie would appear, full of powerful rhymes to drive 'em away.
12. If 7 visited you for the weekend, how would it go? Great! We'd give each other haircuts. And go riding. And I'd make Faramir teach me archery. Plus, we'd get into metaphysical discussions on the proper method for running a nation.
13. If you could command 3 to perform any service or task for you, what would it be? What could Elsie do for me? I don't think she CAN do ANYTHING! I know: I'd get her to knit a purse for me, just so I could keep her occupied and AWAY FROM ME!
14. Does anyone on your friends list write or draw 11? Nope. Poor Sunny isn't exactly a romantic figure.
If 2 had to choose sides between 4 and 5, what side would (s)he choose? Bertie would ask Jeeves, and then do whatever he'd say.
16. What might 10 shout out while charging into battle? Sunny can't talk yet.
17. If you had to choose a song to best describe 8, what would it be? I haven't a clue.
18. 1, 6 and 12 are having a dim sum at a Chinese Restaurant. There is only one scallion pancake left, and they all reach for it at the same time. Who gets it?
Curdie, D'Artagnan, Ludovic. Hmmm. D'Artagnan would challenge Ludovic to a duel over it. While they fought, Curdie would promptly snatch and eat it.
19. What would be a good pickup line for 2 to say to 10? I think Sunny is a little young for Bertie.
20. What would 5 most likely be arrested for?
Well, he WAS arrested for stealing a silver cup, but he was innocent.
21. What is 6's secret? D'Artagnan likes to fancy himself full of secrets. Which one to choose?
22. If 11 and 9 were racing to a destination, who would get there first? Definitely Fay. Athletics isn't Mrs. PW's thing.
23. If you had to walk home through a bad neighborhood late at night, who would you feel more comfortable walking with, 7 or 8? Absolutely Faramir. Alice isn't exactly physically powerful.
24. 1 and 9 reluctantly team up to save the world from the threat posed by 4's sinister secret organization. 11 volunteers to help them,but it is later discovered that s/he is actually a spy for 4. Meanwhile, 4 has kidnapped 12 in an attempt to force their surrender. Following the wise advice of 5, they seek out 3, who gives them what they need to complete their quest. What title would you give this fic? Curdie and Mrs. PW, team up against Henry? No. They like children. Fay isn't subtle enought to spy, Henry is incapable of capturing Ludovic, and Elsie couldn't complete anything. Coward.
Whew! That's a long tag. I hope I didn't bore you to tears. I hope you actually know who some of those characters are.
Anywho, I tag:
Phil Wordy,
Bethany
Equus Delirus